Scheduled Performances...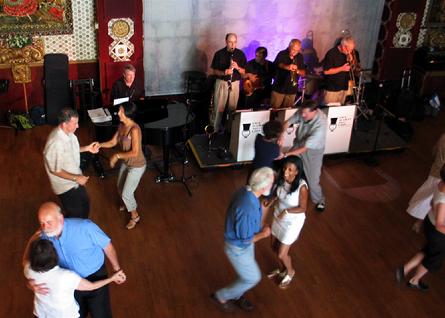 Dancing to High Society!
2014

March 4, Tuesday, Mardi Gras Party -

Private Event


Society Boys - Trio

March 8, 9, Anaheim CC - Natural Products EXPO
High Society "Marching Band"



March 20, Thursday, 6-8 PM,

Yuma Village Jazz Series


Society Boys - Quartet


Free Outdoor Concert
Yuma Palms Regional Center


Sunday, March 23, 1:00-4:00


High Society JB


AFCDJS Concert & Dance

Mississippi Room, Lafayette Hotel

San Diego, CA, 92104

Donation: $5 - $15


Wed. April 2, 1:00, 4:00 and 7:00 -
High Society JB

(3 Concerts)




Free First Wednesday Concert Series


Center Theater
Calif. Center for the Arts, Escondido
340 North Escondido Boulevard
Escondido, CA 92025

April 6, Sunday,

Private Event

- USS Midway
High Society JB

Some previous events from the past year...

-Andrews Sisters Show (Sweethearts of Swing) USS Midway

-Convention opening session, Hilton Bayfront San Diego

-Convention Dinner Party - USS Midway

-Holiday Party (Speakeasy Theme) Britt - Scripps Mansion

-Summer Concert in the Park -Mission Hills, San Diego

-Concert - Fallbrook Library



-Wedding, Hotel Del Coronado (Trio)



-Wedding, Mt. Palomar Winery, Temecula

-Concert, "First Thursday" Del Mar Comm. Arts Asso.


-Concert, New Frontier Recreation Asso.,
Santee
-Hotel Del Coronado, Crown Room,"Speakeasy" theme cocktail party

-La Costa Resort, " 1940s Swing Dance" theme Dinner-Dance.

-Hidden Valley Concert Assoc. - concert at CCA, Escondido

-Summer Concert Series, Westminster Presb. Church, Pt. Loma

-First Sunday Music Series, Encinitas Library - concert

-Surprise 60th Anniv. Party, Mission Bay Yacht Club

-Birthday Party, private home

-Concert, La Costa Glen Carlsbad

-Dance, La Costa Glen Carlsbad

-AFCDJS (Jazz Society) Monthly Sunday dance, Lafayette Hotel

-Del Mar Cultural Arts "First Thursdays" concert

-50th Anniversary Party, Safari Park

-Wedding, Mission Bay Boat & Ski Club

-July 4th Celebration at Old Poway Park (High Society Trio)

-Horton Plaza (High Society Trio)

-Mardi Gras theme cocktail party, RB Business Assoc.

-Thanksgiving Dixieland Jazz Festival, Town & Country Resort

-Corporate cocktail party, Hotel Del Coronado

-Casino Pauma "Club 55" High Society Trio

-New Years Eve at Southwest Yacht Club